Family-school partnerships are collaborative relationships and activities involving school staff, parents and other family members of students at a school. Effective partnerships are based on mutual trust and respect, and shared responsibility for the education of the children and young people at the school.
At Truganina College we have a strong commitment to student wellbeing, health and safety. There is a strong community engagement with many opportunities for parents to be involved with and provide feedback to the school.
Below are a variety of events available at our college:
Assessment Information Evening
Parental Discussion Forum
Mother's and Father's Day Stalls
Parental Helper Workshops
External Support Services Workshop
We also have several other events in store for you. Please stay tuned to the college newsletter and Compass for opportunities to engage in your child's educational journey.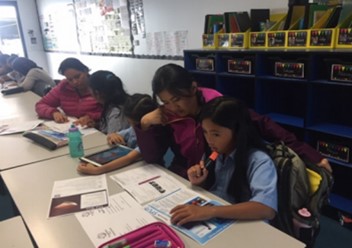 Purpose:
Build strong education relationships between families and staff.
Develop a common understanding of the language of learning.
Create and strengthen partnerships across our College community.
Parent Engagement
At Truganina College we value and encourage parents to take an active role in supporting their child's learning.
Parents can do this by:
Developing good study routines.
Ensuring regular school attendance.
Use the student planner as a communication tool.
Using Google classroom and Compass to access online student learning, reporting absences, information as well as important notes and letters.